Latest Version: 2.2 (Build 2004)
√ No AdWare
√ No watermarks
√ No Trojans/Viruses
√ JUST FREE
Do You Like It?
How to make a slide show for Facebook or Youtube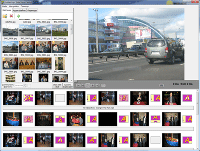 Have you been thinking of making an exciting slideshow for Facebook or Youtube for sometime? Have you faced difficulties? Here are a few tips that will help you avoid the mistakes many people make every day. We want your way of making a video slide show for Youtube or Facebook to be smooth and trouble-free.
First of all, we make the slideshow video itself. The quickest and easiest way to create a slideshow for Youtube or Facebook is using the freeware Bolide Slideshow Creator. Choose the photographs you find best for slideshow and think of text comments for them. Finding the right soundtracks for your slideshow is vital because the music is a great helping hand in creating the right atmosphere and conveying the main message for the audience. By the way, Slideshow Creator offers a great variety of transition effects. High-quality photos, gorgeous music, hilarious text comments, and special transition effects – all of them make the slideshow a single unity, a real movie, rather than a set of ingredients. A significant benefit of Slideshow Creator is that it allows you to make HD slideshows for free.
Next stage is uploading the slideshow to Facebook and Youtube. Both sources have their peculiarities. While uploading your slideshow to Facebook, you may face some difficulties. Facebook supports HD video but the viewing option in HD appears only some time later after the upload – processing your video must take some time. So, it's a good idea to make an HD slideshow for Facebook in maximum resolution. When using popular songs as the background music, Facebook often may delete the video for copyright violation – be ready for that.
There is a good way to avoid the difficulties with Facebook - you can make a slide show for Youtube first and then upload it there. Only after that, you post the link to the video to Facebook – it's easier, and it will save you much time and effort.
As for Youtube, it's better to make a slideshow video in WMV format with the maximum definition of 1920x1080 (FullHD), Youtube automatically saves the video in this definition, and it will transform it into some smaller videos for more convenient viewing. When making a slideshow for Youtube, there are also other variants – you can replace the soundtrack for one of those suggested by Youtube or for some songs you need only to confirm that it is this particular song and Youtube will show advertising in favor of the rights holder. Here you are! The problem is solved :)
Yeah, if you watch a FullHD slideshow using online players, it's better to watch it full-screen – this way you feel Full HD quality of the video.
Download Slide show Software for Facebook and Youtube
Still waiting? Get your copy of Bolide Slideshow Creator right now and upload it to Facebook or Youtube without any troubles! It's free. It's easy. It's fun! FREE DOWNLOAD