Latest Version: 2.2 (Build 2004)
√ No AdWare
√ No watermarks
√ No Trojans/Viruses
√ JUST FREE
Free background music for slideshow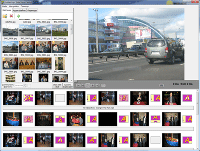 You probably know how to make a slideshow for free, but these days people keep asking the same question: Where can I take music for my slideshow and how to choose it correctly?
So we decided that it's worth writing a good article about it. Well, we've got free software, photos. What else do we need for a wonderful photo slideshow? Music, of course! And here is where problems begin :)
Hidden pitfalls you may face when choosing music for the slideshow
Yeah, right, pitfalls! If you only upload your video slideshows to social networks where not so much attention is given to copyright, you may not come across this problem. However, the thing is that not every song can be used for your slideshow. For example, if you use a music track by a famous singer for your slideshow, and try to upload such a video file to Youtube, you'll be immediately warned. On Youtube, they call it "matched third-party content".
Every music track appears to be an object of copyright, and if the author didn't allow distributing their music for free, you can't do that! Many services, where you can upload your video, check it out automatically. For example, Youtube, Facebook, and many others do it. I think all the others are on their way to it.
So, if Youtube gets to notice that you use copyright music, there are two ways to deal with it (if I get it right, it depends on the copyright holder) - either Youtube blocks this video completely (by the way, sometimes it can only be blocked for certain countries), or it starts showing advertisements in your video in favor of the copyright holder. Well, you can also replace the music track with the one Youtube will recommend you, but it's not usually the best choice :)
As for me, all those variants are not an option at all. I wouldn't like ads in my slideshows, and I don't want Youtube to decide for me which music to use. There is one solution, though, and it's quite simple – you need to use music which is distributed free of charge. Happily, there is a wide choice here.
Where to download free music for the slideshow
First of all, I'll tell you about my favorite place to download royalty free (uncopyrighted) music – that's selection of music on Last.fm. Very convenient – in the left-hand column you can select a genre, and in the main column you can listen to the track chosen and download the mp3 file for free. This file can be used in the slideshow. I also like the fact that you can immediately see the file duration – you can choose the right one from the list. So, these royalty free mp3s don't annoy Youtube and, as a result, it doesn't add ads to your videos – I've checked it lots of times! So, this is the site where authors distribute their music legally and free of charge.
Of course, there are other similar sites. You can find them in Google by entering the phrase "download royalty free music". I'll give you a few well-tried websites of free music:
How to choose music for your slideshow?
There's no unambiguous answer here. Selecting music for a slideshow is a matter of tastes and tastes, as we know, differ. I want to give you a small piece of advice – music should harmonize with the topic of the slideshow. For example, if you're making a slideshow for your granny with old photos, then it's not a good idea to use The Harlem Shake as background music, trying to find something suitable, maybe from the repertoire of that time. For a wedding slideshow, romantic music would be most suitable. For a slideshow of birthday party photos, different music can be appropriate, perhaps, even heavy metal, depending on how you were rocking there :))
So, try to find something suitable for your slideshow on free resources, which have been given in the article, use Bolide Slideshow Creator, hoping it brings you luck! :)