Latest Version: 2.2 (Build 2004)
√ No AdWare
√ No watermarks
√ No Trojans/Viruses
√ JUST FREE
Do You Like It?
Free Photo Slideshow Software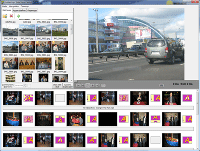 Pictures tell the stories of our lives. They communicate and illustrate ideas, and they are truly are worth one thousand words or more. If you're looking to share digital photographs in uniquely and memorably way with loved ones, friends, business contacts or your community, photo slideshow software can help.
What Is Photo Slideshow Software?
Photo slideshow software is a program that creates visual presentations using photographs. The photographs can be shown on their own and then narrated during a presentation, or they can be labeled with captions to describe or explain the images. Each picture in the slideshow is displayed for a set period. Then, a transition occurs, and the view changes to the next image. A photo slideshow program may allow you to add special features, such as a music soundtrack or voiceover recording, motion or animated transitions. When the slideshow project is complete, it can be saved in a file format for sharing.
What Can You Do with Photo Slideshow Software?
Photo slideshow software can have a wide variety of uses. You can use them as:
Videos on websites and landing pages
Presentations for work, school or community events
Keepsakes of special events, get-togethers, holidays or vacations
Tributes and memorials
Advertisements for products and services
Much, much more
Depending on the file format in which you save your photo slideshow with your photo slideshow software program, you can watch it on a television, play it with a media player on a computer or mobile device, upload it to YouTube, share it on your social media accounts, email it or burn it on a DVD or Blu-Ray disc.
What Is the best Photo Slideshow Software Program?
To create the best photo slideshows, you need to use the best photo slideshow software program. There are dozens of photo slideshow programs available on the market today, but none can compare to Bolide Slideshow Creator. FREE DOWNLOAD
Bolide Slideshow Creator is truly the best photo slideshow software program because:
Bolide Slideshow Creator can use photographs in nearly any file format. You won't have to waste time opening your pictures and saving them in different ways to use the photo slideshow program.
Bolide Slideshow Creator has a variety of file format options for saving your project. You can use the program to create AVI, MKV, FLV, MP4 or WMV video files that can be shared on YouTube, on Facebook, and in many other ways.
Bolide Slideshow Creator allows you to add music or sound. The photo slideshow program is compatible with many audio file formats for your convenience.
Bolide Slideshow Creator makes slideshows exciting and fun. You can pan and zoom to add movement to the photographs and experiment with dozens of transition effects.
Bolide Slideshow Creator is easy to use. All you need to do is drag and drop your images into sequence and add your transitions. You can make engaging slideshows in minutes.
Bolide Slideshow Creator is free. That's right; you can download Bolide Slideshow Creator, the best photo slideshow software on the market today at absolutely no cost!
Download Photo Slideshow Software
Download your free copy for Windows XP, Vista, 7, and 8 today and start creating creative, fun slideshows with your favorite photographs. FREE DOWNLOAD