Latest Version: 2.2 (Build 2004)
√ No AdWare
√ No watermarks
√ No Trojans/Viruses
√ JUST FREE
Do You Like It?
5 Reasons to Start Using a Slide Show Maker Today!
Reason 1. Impress your business partners with a perfect product presentation
Are you planning to conclude a big contract soon and want to make a good impression on your business partners? Then using an excellent slide show maker could help you! Make a good video presentation in the shortest time possible and impress your partners! Choose the best photos of your product, add the right comments and suitable soundtracks. In the slide show maker software like Bolide SlideShow Creator, you're also welcome to choose from many various transition effects. Here you are! As you know, well begun is half done!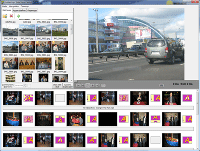 Reason 2. Make an original present for your best friend
If you are racking your brains about what to give your best friend as an original birthday present or if you want to refresh sweet memories of your parents for their wedding anniversary, then making a slideshow video is a worthy idea! Try using reliable slideshow maker software, and you will love the results! Take some long-forgotten photos, think of the suitable comments for them (maybe some details of those events known only to you two) and the music which reminds them of something pleasant in their life! Becoming a bit hit is sure!
Reason 3. High-class slide show maker for a professional!
If you're a creative person and need to promote yourself on the Internet and find new customers, making a video presentation of your works sound very promising. Mind that a picture is worth 1000 words... Saying nothing about a good-quality video! I bet your potential customers would rather spend a few minutes watching a short video presentation than read about your numerous achievements and go through the portfolio of works page after page. Moreover, doing this won't take much time. Why not do it right now? ;) It costs you nothing, but the opportunities are huge!
Reason 4. Make great video lessons, upload them to your site and attract more online students
Are you an online teacher trying to do your best to improve your students' knowledge and expand the network of students around the world? That's awesome! Then the new slideshow maker will make this task miles easier! Everything is intuitively clear in the program and super easy to do – drag and drop the right images, the necessary text, the music files, and transition variants. That's it! Nothing more. It saves your preparation time for the lesson and makes students more excited and motivated!
Reason 5. Use this slide show software for free!
Yeah, this bunch of amazing features and developers' support are free for you! So, don't hesitate and start using Bolide Slideshow Creator right now. It's fun!
Download Slideshow Software
Bolide Slideshow Maker is a great start! Download it right now and give it a try! It is worth it ;) FREE DOWNLOAD