Latest Version: 2.2 (Build 2004)
√ No AdWare
√ No watermarks
√ No Trojans/Viruses
√ JUST FREE
Free Wedding Slideshow Software
How to make a wedding slideshow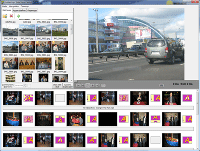 There are many ways to make a wedding slideshow, but one of the most popular and effective methods is to use a freeware app, Bolide Slideshow Creator. First, you'll need to gather all the photos you want to use in the slideshow. Once you have all the photos, you'll need to decide on a song or piece of music to play in the background. Once you have the photos and music, you can start creating the slideshow.
Start using the wedding slideshow software by choosing the right photos of the event – the more, the better. Add them to the slideshow project in the order you need. Then decide upon the music most suitable for the photos. In your slideshow, you may use as many of the music tracks as you wish. Drag and drop the images and music tracks into the place shown in the main window of the program. No complicated tasks – every step will be  easily performed. Done? Going on!
Add your text comments to the photos describing the event and what the people behind the scene are doing or saying. Surely, it's a lot of fun! Then you pick the best transition effects. They also produce a special atmosphere, making the wedding slide show even more exciting. To save time, do it automatically, use the wedding slideshow software. Then make a few corrections if necessary. That's it!
Do not forget about picking the appropriate background music. It is a MUST for the wedding slideshow. A little tip – it is better to select from royalty-free music to avoid copyright issues when publishing your slideshow. At any stage of making the video, you can preview your slideshow in the full-screen mode to see what you're going to get as a result.
At the final stage of making the video, you specify the format and quality of the video. Using the wedding slideshow software, you can also make the frame speed higher or lower, synchronize the music and frame speed, as well as choose the output video resolution. You are also welcome to make a high-resolution video which is going to look nice on your widescreen TV.
Download Free Wedding Slideshow Software
Still doubt? Come on! The program is free – download it now and give it a try – sure, you will love this idea and start making more and more marvelous videos. FREE DOWNLOAD
Making a wedding slideshow is a great way to share memories with your friends and family. With a bit of planning and effort, you can create a beautiful and memorable slideshow that everyone will enjoy.