Latest Version: 2.2 (Build 2004)
√ No AdWare
√ No watermarks
√ No Trojans/Viruses
√ JUST FREE
It is Time to Make a WMV Slideshow! 🎬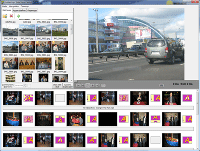 Bolide Slideshow Creator is a WMV slideshow maker that allows you to create slideshows with your photos, videos, and music. You can also add text, transitions, and effects to your slideshows. Bolide Slideshow Creator makes it easy to create slideshows that are both professional and personal.
Look what you get using Bolide Slideshow Creator.
You're saving your time
The program is meant for 21st-century business people who don't have much spare time and prefer not to waste it. Instead, they count every minute of their precious time. So, with this program, you create WMV slideshows amazingly fast. Need to make a business presentation of your product quickly? Great! You don't have to spend any time learning how to use the program – everything gets clear as soon as you start it. Just choose successful photos of a product and drop them, add comments and music if necessary and decided upon the transition effects (or let the program do it for you if you're pressed for time). That's it!
You're saving your money
Yeah, it is true. Look, you don't need to spend much money on professionals and pay through the nose for their work. With this software, you quickly get creative yourself! Nothing else is possible. All you need is to make a WMV slide show using Slideshow Creator! Don't limit yourself - relax and create a classy slideshow!
You have fun
Yeah, you have a lot of fun doing all this. Are you excited by the idea of trying your hand in movie directing? Want to surprise your friends? Go ahead! Prepare something unusual and unexpected! With WMV Slideshow Creator, you may remind them of an event they have already forgotten about and revive sweet memories. Just create a WMV slideshow quickly with the resolution of Full HD and watch it on TV!
You get the WMV slideshow you may be proud of
When creating video slideshow, you become much more creative, think of the best ways to present your ideas, choose the transition effects. Suitable transition effects and music are like a chase for a precious stone or sauce for a dish. Something that makes it different from others. As a result, you get a unique product having no analogs anywhere in the world. Nowhere! Never!
You and your friends are starring, your loved music, funny comments. How cool is that! It's 100% authentic, and it's you who made it! Congratulations! You may be proud of yourself!
Using Windows Movie Maker to make a WMV Slideshow
There are a few things you'll need to create a WMV slideshow: first, a computer with Windows Movie Maker installed; second, a selection of photos in JPEG format; and third, a song or piece of music to serve as the background audio for your slideshow. Once you have all of these items, you can begin creating your slideshow.
To start, launch Windows Movie Maker and import the photos you've selected for your slideshow. Once your photos are imported, you can add them to the project timeline in the order you wish them to appear. As you add each photo, you can also add a caption if desired.
Next, add the background audio to your project. To achieve this, simply click on the "Add music" button in the toolbar and select the song or piece of music you wish to use. Once the audio is added, you can preview your slideshow by clicking on the "Play" button in the preview window.
When you're satisfied with your slideshow, you can save it as a WMV file by clicking on the "File" menu and selecting "Save movie". In the Save As dialog box, select "WMV" as the file format and give your slideshow a name. Finally, click on the "Save" button to save your slideshow as a WMV file.
Be quick and get your copy of WMV Slideshow Creator now!
Download Slideshow Creator
Bolide Slideshow Creator is a great start! Download it right now and give it a try! It is worth it ;) FREE DOWNLOAD
You can read how to create MKV slideshow or create AVI slideshow.