Latest Version: 2.2 (Build 2004)
√ No AdWare
√ No watermarks
√ No Trojans/Viruses
√ JUST FREE
How to Create AVI Slideshow in 5 Easy Steps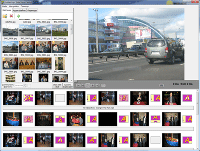 Feel like getting creative tonight? Why not try something new? Say, making a cool slideshow out of photos you've got. Sure, you got a giant collection of photos describing lots of cool and exciting moments of your life. Great!
To create an AVI slideshow, you will need a computer with a video editing program installed. There's 5-star software which will turn all this good stuff into genuine masterpieces! And you will also be amazed by how simple it is and impressed by what you get as a result. Okay, let's go through the whole process step by step.
Step 1. Think of the event you would like to make into a movie
Like a real director, you need to start with the idea of your future film. Yeah, it's important for creating AVI slideshow. It can be every event that is well covered by photos – a birthday party or Christmas celebration or whatever you like. The main thing is what you want to say by your movie and how you're going to do that.
Step 2. Choose the front-rank photos
Choosing photos is like finding the right actors for the characters. Make sure you've taken the best ones to make an AVI slide show! Add them to the project in the correct order. Using Slideshow Creator, it's so easy to do that even an infant would cope :) Okay, let's go on!
Step 3. Reconstruct the event by adding hilarious comments
As you guess, to say that the scenario is essential for any film is to say nothing! That's especially true when you are producing an AVI slideshow. Here the script is the comments added to the photos. So, think of the spicy remarks for every picture and make your movie unforgettable! Impress your future audience with a great sense of humor!
Step 4. Add the audio tracks which best describe or are somehow associated with the event
Well, adding music is fast and fun, like the whole process. Decide on the most beautiful music to suit your AVI slide show. Adding music is simple as ABC – take the track, drag and drop it to the field in the program. That's all. Moving on.
Step 5. Choose from a range of transition effects available
Slideshow Creator offers loads of transition effects to make AVI slideshows awe-inspiring. You may choose them yourself, or the program will select the special effects for you.
Okay, here you are! Your slideshow is ready and waiting for the audience :) So, upload this slide show to your blog or website or your YouTube channel and invite friends to have a look at it! Or save it in the FullHD definition and watch it on your home theater system. Creating an AVI slideshow is always a lot of fun! Now it's your chance – go and get your copy of Slideshow Creator ;)