Latest Version: 2.2 (Build 2004)
√ No AdWare
√ No watermarks
√ No Trojans/Viruses
√ JUST FREE
Do You Like It?
Turn Into a Top-Rate Director by Creating MKV Slideshows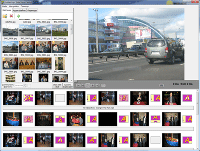 Imagine that all the exciting moments of your life are made into fantastic movies with special effects, best actors and music you love... Your first day at school, your mind-blowing school-leaving party, your first date, your wedding, the birth of your first child, or just being happy after passing an important exam! It's time to make your dream come true! You can do it yourself by creating MKV video slideshows on your own! Moreover, that's got miles easier than ever before!
Look, you don't need a video camera or director's talent to make super movies of your life and important events. All you need is MKV slideshow making software like Bolide Slideshow Creator. Probably the best news about it is that it's 100% free! Yeah, it's true! No trial versions, no viruses whatever. Just software which is waiting for you ready to create hundreds of brilliant MKV slide shows!
The first thing to mention about making MKV slide show is that it's effortless! Yeah! Slideshow Creator is extremely efficient. When you start the program, you see at once where to drag photos and drop them. The program supports almost all formats of graphics files. So, choose carefully the images which brightly describe a significant event and decide upon the order they will be used in.
Then you may add your witty comments and all the necessary text. The words will help you revive long-forgotten memories and maybe look at those events from another angle. I bet you've got a good sense of humor and your friends are going to laugh out loud when watching this film.
Next step in making a video slideshow is adding music which is most suitable for your future film. Slideshow Creator successfully works with many audio formats like MP3, AAC, WMA, M4A, MP4, OGG. So, it's not going to be a problem – together with comments and the right order of the photographs you, like an experienced director, have a chance to create the needed mood and arouse some feelings among your audience.
What can you do with the MKV slideshow created? After that, you can save this video in MKV, AVI or WMV with the definition up to FullHD! You can share it with friends, and you can upload it to your Facebook or LinkedIn page or Twitter! You may post it on your blog or site. Finally, you may entertain your friends at home the next time they come round and watch it on a large screen TV!
Looking forward to trying it? ;) Hurry up and download Slideshow Creator right now!