Latest Version: 2.2 (Build 2004)
√ No AdWare
√ No watermarks
√ No Trojans/Viruses
√ JUST FREE
How to Create Video from Photos for Free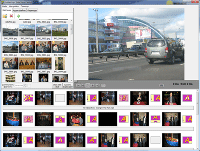 To create a video from photos, you'll need to gather all the photos you want to include and put them in a folder. Once you have all the photos, you'll need to download a video editing program. There are many programs available, but we recommend using Bolide Slideshow Creator because it is freeware. Once you have the program installed, open it up and create a new project. In the project, you'll want to import all the photos you gathered into the project. Once they're all imported, you can begin arranging them in the order you want them to appear in the video. You can also add music or other audio to the video at this point. Once you're happy with the arrangement of the photos, you can render the video and export it to a file format of your choice.
Let's make a video from photos step-by-step.
Step One. Think what event you would like to cover in your video
The events for creating video from photos can be various. It can be a wedding, a birthday party, a corporate party or a business presentation – in other words, whatever you want. If you have photos of this event, it will do. Put the images in the right order and get ready for the next step.
Step Two. Find suitable music for your video
The right music for your movie is of vital importance! With Bolide Slideshow Creator, you will be able to add as many tracks as you like, depending on the photos and the mood. Choosing the right music when creating a video from photos will help revive the pictures and the memories. Read more on how to download uncopyrighted music for slideshow.
Step Three. Add the text comments to the photos
Witty remarks are a real power to create the proper mood for the video. And again, you won't need to repeat who is doing what in the photos every time you show them to friends. That's far more convenient! It helps you to convey the atmosphere of the event and all the emotions connected with this or that episode.
Step Four. Choose the transition effects
To create video from photos, you certainly need different transitional effects. Bolide Slideshow Creator has dozens of transition effects in store! You are welcome to select them yourself or let the program do that automatically, and you edit them if necessary.
Step Five. Make the final adjustments and enjoy your video!
After you have prepared everything, try to preview what you've got as a result and make the final adjustments – increase the frame speed or make it lower (right to the music), adjust the parameters of the output video. By the way, using Bolide Slideshow Creator, you can make a high-resolution video which looks and works great on a widescreen TV.
So, creating video from photos is easy and fast, and the freeware Bolide Slideshow Creator's opportunities are limitless! Feel it yourself today!
Several ways to create a video from photos
There are many ways to create video from photos. One way is to use a video editing program such as Adobe Premiere or Final Cut Pro. With these programs, you can import your photos and then create a video by adding transitions, effects, and music.
Another way to create video from photos is to use an online service such as Animoto or Flipagram. With these services, you can upload your photos and then create a video by adding transitions, effects, and music.
Finally, you can also create video from photos using a smartphone app such as iMovie or Splice. With these apps, you can import your photos and then create a video by adding transitions, effects, and music.
Make video from photos today!
Bolide Slideshow Creator is a great start! Download it right now and give it a try! FREE DOWNLOAD
You can read how to make AVI slideshow.