Latest Version: 2.2 (Build 2004)
√ No AdWare
√ No watermarks
√ No Trojans/Viruses
√ JUST FREE
Do You Like It?
How To Make Slideshow with Music
Sure you've been in a situation when showing photos you felt a bit out of it, a little bit embarrassed. That's because very often pictures were in the wrong order, over and over again you dropped across all-to-similar photos, some of them were not meant for the public at all. Oops! You had forgotten about them completely... In other words, your photo collection needs much to be desired. Not good - what was meant to be a pure pleasure turned into a real pain...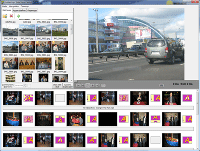 There's a Sweet Software Cure to Your Pain
And now think - instead of your chaotic photo collection you show a great full HD film with music and great transition effects, you and your friends starring. And (unbelievable!) the film was directed by ... you! It's not a dream – to create a slideshow with Bolide Slideshow Creator has never been easier! No expensive professionals' help needed. No complicated professional software used. No technical skills required. Just you and your creativity :)
The algorithm to make a slideshow is as easy as ABC. The program is meant for non-professionals. That's why as soon as you start the program, that very moment you know where to drop photos and music and where to click to preview what you are going to get.
5 Steps to a Stunning Slideshow with Music
Step 1. Take photos you want to make into a clip, and decide upon the order in which they appear in the slideshow – that's important. No big deal – drag and drop them in the right field.
Step 2. Choose proper music to show the atmosphere of the event.
Step 3. Adding transitional effects – there are hundreds of them (you can preview each effect before adding).
Step 4. Thinking of and adding text comments to the photos. Be imaginative!
Step 5. Choose the output file format and quality and hit the "Go" button.
Here you are! Your slideshow with music is ready. Yeah, so soon :) Okay, let's look at what you get using Bolide Slideshow Creator if compared to a traditional photo demonstration.
Slideshow with Music vs. Traditional Photo Demonstration
| | | |
| --- | --- | --- |
| photos in the needed order | vs. | pretty chaotic collection |
| stunning music to convey the mood atmosphere | vs. | boring photo demonstration |
| mind-blowing transitional effects | vs. | no transitions - just scrappy photos |
| witty built-in text comments | vs. | your verbal comments (if it' live presentation) or nothing |
| a full HD film with you and your friends in the lead | vs. | just photos |
| uploading only one fantastic movie | vs. | uploading numerous images to Youtube and Facebook |
Possibly the best news is that the program is 100% free, no trial period, no premium options. It's free! So, why not try and make a slideshow yourself right now and impress your friends or colleagues or business partners? ;) That's so much fun!