Latest Version: 2.2 (Build 2004)
For Windows XP/7/8/10/11
√ No AdWare
√ No watermarks
√ No Trojans/Viruses
√ Easy to uninstall
More FREEWARE tools
Free Bolide Slideshow Creator
No ads, No hidden installs, No watermark, Safe download, Freeware
We tried to make the slideshow creation process as easy as possible. I hope we hit the goal!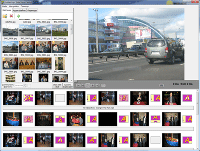 Here you can download one of the easiest slideshow making programs for Windows. Also, we decided to keep it completely free. So, download the application now and create your first slideshow today!
With our program, you can save a photo slideshow as an AVI, MKV, FLV, MP4 or WMV video file. If you want to share your slides with the world, you can upload this file to Youtube or Facebook.
You don't need to spend hours making your slideshow. Using our program, you can drop many photos to the timeline, tell the program to add transition effects automatically (either the random or selected ones) and save your slideshow as a video file.
You don't need to be a professional video editor. Our program is tested by our children, and they made great slideshows without our help! So, install the program, select the photos, assign the transition effects and add background music. These steps are enough to make a beautiful slideshow. Act right now!
Bolide® Slideshow Creator Features
support of almost any image format
support of MP3/AAC/WMA/M4A/MP4/OGG music files for the background audio
output video file resolution can be from 128x160 to 1920x1080 pixels (FullHD)
ability to add dozens of transition effects, including the fantastic pan&zoom effect
saving the slideshow as a video file (AVI, MKV, WMV, MP4, FLV)
if you want to add video clips to the timeline, try Bolide Movie Creator instead
You can even
create a cartoon
with our program! Have fun with your children!
Example of slideshow made with Bolide Slideshow Maker
Download Bolide Slideshow Creator
Bolide® Slideshow Maker is a great start! Download it right now and give it a try! It is worth it ;) FREE DOWNLOAD